Elmentem!

 Almás kiflipuding vaníliaöntettel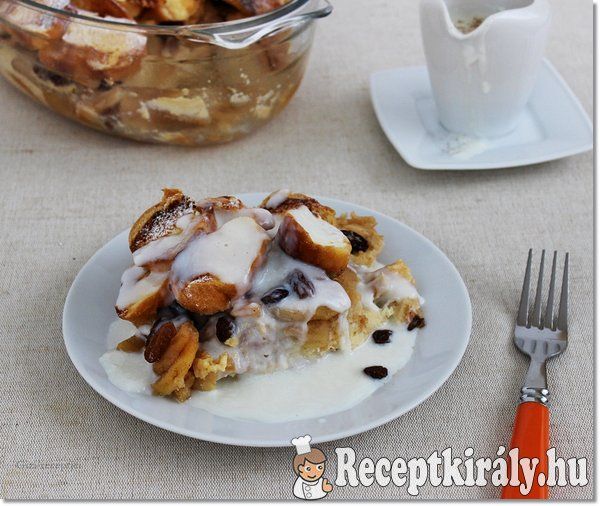 Hozzávalók:

Az almás kiflipudinghoz:

4 db kifli
4 db édes alma
4 db tojás
3 ek. méz
4 tk. eritrit
3 dl Hulala (v. habtejszín)
2 dl tej
2 tk. vaníliaaroma
1 kk. őrölt fahéj
5 dkg mazsola
0,5 dl rum
5 dkg vaj

A vaníliaöntethez:

1 cs. tejszín ízű pudingpor (v. vaníliás pudingpor)
1 tk. vaníliaaroma
2 ek. eritrit
6 dl tej

| | | | |
| --- | --- | --- | --- |
| Elkészítési idő: | 45 perc | Fogyókúrás: | nem |
| Költség: | 1500-2000 FT | Vegetáriánus: | igen |
| Adagok: | 4 főre | Gluténmentes: | nem |
| Nehézség: | Egyszerű | Laktózmentes: | nem |
Elkészítés:
A mazsolát áztassuk be a rumba, tegyük félre, és hagyjuk állni, hogy magába szívja.
Az almát hámozzuk meg, negyedeljük, vágjuk ki a magházat, majd szeleteljük fel.
Egy serpenyőbe melegítsük fel a mézet, adjuk hozzá a felszeletelt almát, szórjuk meg az őrölt fahéjjal, egy teáskanál vaníliaaromával, keverjük alaposan össze, majd pároljuk roppanósra. Ezután hűtsük ki. A tojásokat keverjük simára az eritrittel, a tejjel, és a Hulalával (v. habtejszínnel). A kiflit vékonyan karikázzuk fel.
A vaj felével kenjünk ki egy közepes méretű jénaitálat, majd rakjuk ki a fele mennyiségű kiflikarikával. Ezután kanalazzuk rá az előzőleg megpárolt almaszeleteket, szórjuk meg az előzőleg rumba áztatott mazsolával, majd fedjük be a maradék kiflikarikákkal.
Ezután a tojásos keverékkel locsoljuk meg a kiflit hogy kissé megázzon, majd a maradékot egyszerűen öntsük rá, hogy leszivárogjon a kifli és az alma közt az alsó kiflirétegre.
Ezután takarjuk le, és hagyjuk 1-2 órát állni, hogy a kifli jól magába szívja a tojásos keveréket, majd vegyük le a fóliát, és csipkedjük rá a maradék vajat mielőtt betennénk a sütőbe.
Helyezzük be előmelegített sütőbe, majd közepes hőmérsékleten süssük szép aranybarnára. (én légkeverésnél 160 fokon, 30 percig sütöttem) A sütőből kivéve hagyjuk langyosra hűlni mielőtt tálalnánk.
A pudingport keverjük simára egy kevés tejjel és a vaníliaaromával, majd keverjük hozzá az eritritet is. A maradék tejet melegítsük meg, öntsük hozzá a pudingos keveréket, és állandó keverés mellett, főzzük pár percig, hogy kissé besűrűsödjön, majd hagyjuk langyosra hűlni. (közben többször keverjük át, hogy ne bőrösödjön be a teteje)
Tálalás előtt ízlés szerint szórjuk meg porcukorral az almás kiflipudingot, majd a vanília szósszal kínáljuk.