Elmentem!

Bécsi túrós palacsinta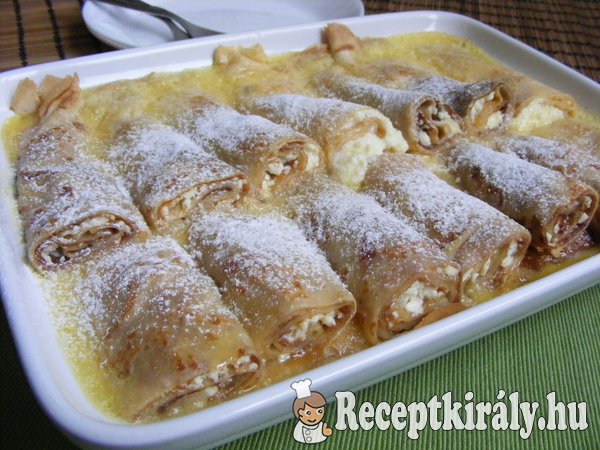 Hozzávalók:

20 dkg liszt
2 db tojás
1,5 dl tej
2 dl szénsavas ásványvíz
2 ek. olaj

A túrós töltelékhez:

50 dkg túró
10 dkg porcukor (ízlés szerint)
2 cs. vaníliás cukor
1 citrom reszelt héja
2 db tojás
2 ek. rum
1 marék mazsola (elhagyható)

A tál kikenéséhez:

A vanília sodóhoz:

2 dl tejszín
2 db tojás
2 cs. vaníliás cukor
10 dkg porcukor

| | | | |
| --- | --- | --- | --- |
| Elkészítési idő: | 1 óra | Fogyókúrás: | nem |
| Költség: | 500-1000 FT | Vegetáriánus: | igen |
| Adagok: | 4 főre | Gluténmentes: | nem |
| Nehézség: | Nagyon egyszerű | Laktózmentes: | nem |
Elkészítés:
A tojásokat keverjük össze egy csipet sóval, a liszttel és az olajjal, majd apránként adagolva hozzá a tejet, keverjük csomómentesre. Majd fokozatosan adjuk hozzá a szénsavas ásványvizet. Hagyjuk állni 10-15 percig.
A palacsintasütőt hevítsük fel, enyhén olajozzuk ki, majd süssük meg benne a palacsintákat.
A mazsolát áztassuk be a rumba.
A töltelékhez a tojásokat válasszuk ketté.
A tojások fehérjét verjük fel kemény habbá. A túrót keverjük ki a tojások sárgájával, a porcukorral, a vaníliás cukorral és a reszelt citromhéjjal. A végén keverjük bele a lecsepegtetett mazsolát és forgassuk bele a fehérjehabot.
Töltsük meg a töltelékkel a palacsintákat, tekerjük fel, és vágjuk ketté középen.
Sorakoztassuk őket kivajazott hőálló edénybe.
A vanília sodó hozzávalóit keverjük simára, majd locsoljuk rá a palacsinták tetejére.
Toljuk be a 180 fokra előmelegített sütőbe és süssük addig, míg a sodó kellően besűrűsödik, és szép színt kap.
Porcukorral meghintve kínáljuk.
Tipp / megjegyzés:
Az eredeti receptet Gizi-nél találtam. Én a vaníliasodó mennyiségét megdupláztam, ami csak jót tett neki
Próbáljátok ki ti is, mert egyszerűen mennyei.