Elmentem!

Mákos-marcipános keksz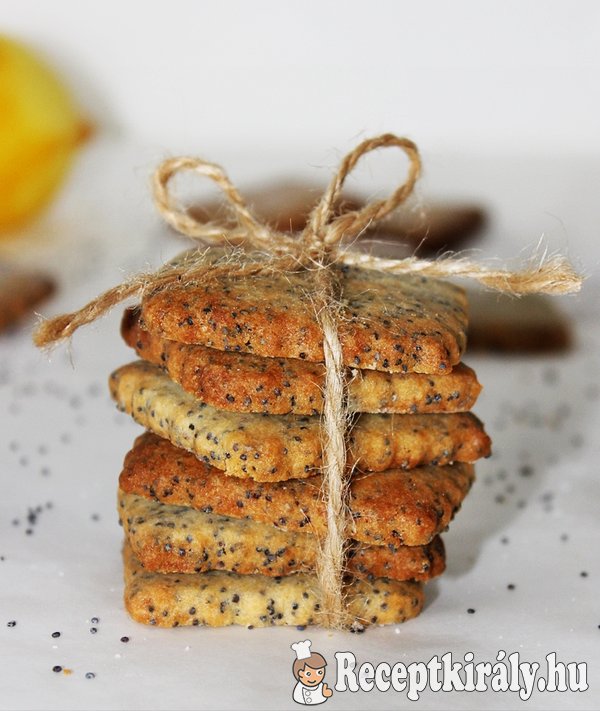 Hozzávalók:

20 dkg liszt
5 dkg egész mák
5 dkg marcipán
15 dkg vaj
5 dkg porcukor
1 cs. vaníliás cukor
1 tk sütőpor
1 db tojássárgája (nagy)
1/2 ek. tejföl
1 citrom reszelt héja
csipet só

| | | | |
| --- | --- | --- | --- |
| Elkészítési idő: | 1 óra | Fogyókúrás: | nem |
| Költség: | 1000-1500 FT | Vegetáriánus: | igen |
| Adagok: | 2 főre | Gluténmentes: | nem |
| Nehézség: | Normál | Laktózmentes: | nem |
Elkészítés:
A mákot állandó kevergetés mellett, pár pillanat alatt pörköljük meg, majd öntsük ki egy tányérra, és hűtsük ki teljesen. (vigyázzunk, nehogy a mák megégjen, egy pár pillanat elég ahhoz hogy kellően megpörkölődjön!!!)
A lisztet szitáljuk át, majd keverjük össze a sütőporral, egy csipet sóval, és a reszelt citromhéjjal. Ezután adjuk hozzá a felkockázott hideg vajat, majd kezdjük el összemorzsolni. Amikor már kellően morzsalékos, adjuk hozzá az előzőleg megpörkölt mákot, a porcukrot és a vaníliás cukrot, reszeljük hozzá a marcipánt, majd keverjük össze. Ezután adjuk hozzá a tojássárgáját, a tejfölt, és gyors mozdulatokkal gyúrjuk össze a tésztát, majd csomagoljuk be fóliába, és tegyük be egy órára a hűtőbe, hogy kellően lehűljön, és könnyen nyújtható legyen.
A hűtőből kivéve, lisztezett felületen nyújtsuk ki kb. 0,5 cm vastagra, majd ízlés szerinti méretűre vágjuk fel a tésztát. (én derelyevágóval vágtam fel) Egy tepsit béleljünk ki sütőpapírral, majd egymástól kicsit távolabb, helyezzük rá a tésztát. (sütés közben a tészta nőni fog) Helyezzük be előmelegített sütőbe, majd közepes hőmérsékleten süssük 10-15 perc alatt szép aranybarnára. (én légkeverésnél 150 fokon, 10 percig sütöttem)
A sütőből kivéve hagyjuk pár percig a tepsiben, majd helyezzük rácsra, és hűtsük ki teljesen.
Tipp / megjegyzés:
Ízlés szerint süthetjük világosabbra, vagy éppen sötétebbre. Én kicsit sötétebbre sütöttem, mert jó ropogósan szeretjük. Hűvös helyen hosszabb ideig eltartható.