Elmentem!

Gyömbéres-csokoládés keksz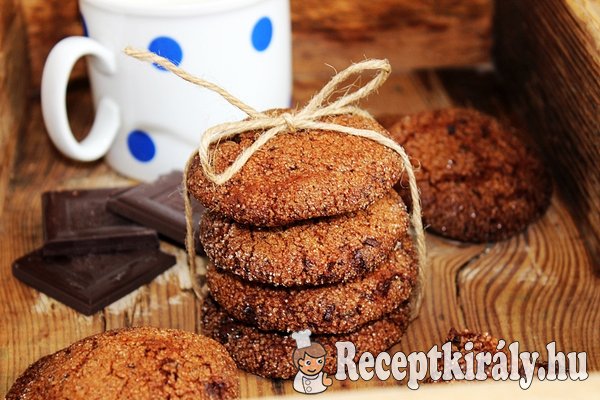 Hozzávalók:

10 dkg csokoládé (70%-os)
1/2 ek gyömbér (lereszelve)
1 tk szódabikarbóna
3 ek víz (hideg)
10 dkg vaj
5 dkg barna cukor
2 dkg kristálycukor
1 cs vaníliás cukor
0,5 dl méz
20 dkg liszt
1/2 tk őrölt fahéj
1/2 ek kakaó (holland)

| | | | |
| --- | --- | --- | --- |
| Elkészítési idő: | 1 óra | Fogyókúrás: | nem |
| Költség: | 1500-2000 FT | Vegetáriánus: | igen |
| Adagok: | 4 főre | Gluténmentes: | nem |
| Nehézség: | Normál | Laktózmentes: | nem |
Elkészítés:
A csokoládét vágjuk fel nagyon apró darabokra. A gyömbért egy kisebb lyukú reszelőn, reszeljük le. A szódabikarbónát keverjük simára a vízzel.
A barna cukrot, a kristálycukrot, a vaníliás cukrot, és a mézet tegyük bele egy keverőtálba, majd adjuk hozzá a felkockázott, puha vajat. Ezután robotgéppel keverjük simára.
Adjuk hozzá a lereszelt gyömbért, és a vízzel elkevert szódabikarbónát, majd újra keverjük össze.
A lisztet keverjük el a kakaóval, és az őrölt fahéjjal, majd állandó keverés mellett, kanalazzuk a vajas-cukros keverékhez. Végül állandó keverés mellett, adjuk hozzá az apróra vágott csokoládét, majd keverjük alaposan össze.
Ezután tegyük be pár órára, vagy egész éjszakára a hűtőbe, hogy teljesen lehűljön a tészta.
Vegyük ki a hűtőből a lehűlt tésztát, és formázzunk diónyi golyókat, majd hempergessük meg a kristálycukorba.
Egy tepsit béleljünk ki sütőpapírral, majd egymástól távolabb, helyezzük rá a golyókat. Ezután a tenyerünkkel óvatosan nyomjuk le egy kicsit. (éppen csak egy kicsit nyomjuk meg, mert sütés közben úgyis szétterül a tészta)
Helyezzük be előmelegített sütőbe, majd közepes hőmérsékleten (kb.160-170fok) süssük 10-12 perc alatt készre.
A sütőből kivéve helyezzük rácsra, és hűtsük ki egészen.
Tipp / megjegyzés:
Az elkészült keksz nagyon finom omlós, száraz helyen hosszabb ideig is eltartható.