Elmentem!

Mascarponés-cseresznyés torta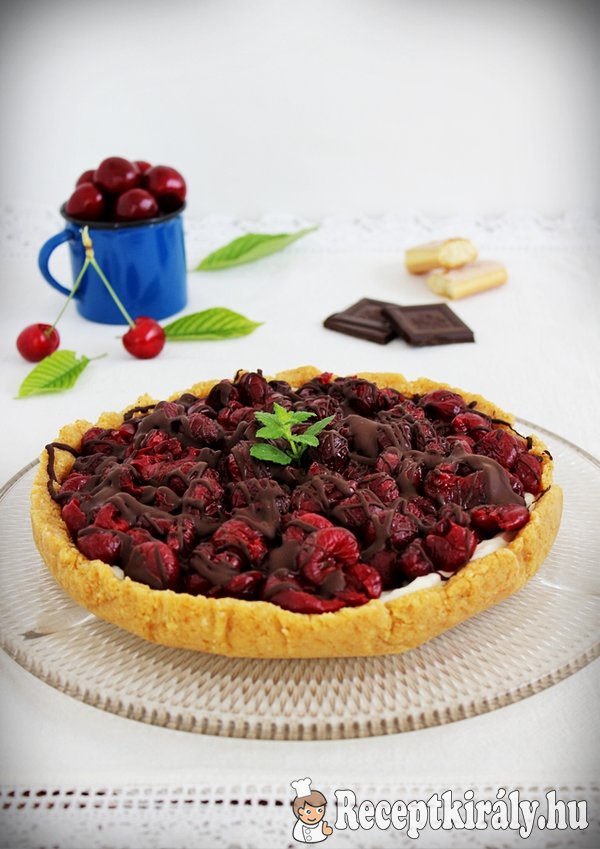 Hozzávalók:

0,5 kg kimagozott cseresznye
2-3 ek. barna cukor
1 cs. vaníliás cukor

A babapiskótás alaphoz:

28 db babapiskóta
1/2 citrom reszelt héja
15 dkg vaj
2-3 ek. tej

Mascarponekrémhez:

25 dkg mascarpone
2 cs. vaníliás cukor
porcukor (ízlés szerint)
1/2 citrom reszelt héja

| | | | |
| --- | --- | --- | --- |
| Elkészítési idő: | 45 perc | Fogyókúrás: | nem |
| Költség: | 1500-2000 FT | Vegetáriánus: | igen |
| Adagok: | 4 főre | Gluténmentes: | nem |
| Nehézség: | Normál | Laktózmentes: | nem |
Elkészítés:
A cseresznye előkészítése:
A cseresznyét magozzuk ki majd egy sütőpapírral bélelt tepsibe tegyük bele. Ezután szórjuk meg 2-3 evőkanál barna cukorral, és egy csomag vaníliás cukorral. Helyezzük be előmelegített sütőbe, majd közepes hőmérsékleten süssük 15-20 percig, majd hűtsük ki teljesen. (figyeljünk nehogy megégjen sütés közben, lehet rövidebb idő is elegendő a sütéshez)
A babapiskótát morzsoljuk össze, majd reszeljük hozzá a citrom héját. A vajat olvasszuk fel, majd öntsük hozzá az összemorzsolt piskótához. Ezután keverjük össze, és közben apránként adjuk hozzá a tejet, de figyeljünk arra, nehogy nagyon lágy masszát kapjunk.
Egy 24 cm-es torta formát béleljünk ki sütőpapírral úgy, hogy a szélét is befedje. Ezután öntsük, majd tenyérrel lapogassuk bele a margarinos-babapiskótát úgy, hogy 2-3 cm magas pereme legyen. Végül tegyük be a hűtőbe legalább fél órára, hogy megdermedjen.
A mascarponét keverjük simára a porcukorral, a vaníliás cukorral, és a reszelt citromhéjjal.
A tortaformát vegyük ki a hűtőből, majd a piskótáról óvatosan húzzuk le a sütőpapírt. Ezután helyezzük rá egy tálcára, majd egyenletesen kanalazzuk bele a mascarponekrémet. Ezután a krémre rakjuk rá az előzőleg megsütött, majd kihűtött cseresznyét.
Végül ízlés szerint csorgassunk rá olvasztott csokoládét, majd tegyük vissza a hűtőbe, hogy a csokoládé megdermedjen, és az ízek jól összeérjenek.
Közvetlenül tálalás előtt vegyük ki a hűtőből, majd ízlés szerint szeleteljük fel, és úgy kínáljuk.