Elmentem!

Túró Rudi torta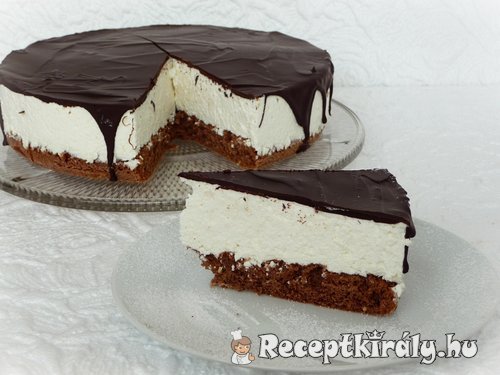 Hozzávalók:

Tészta hozzávalói:

8 dkg liszt

8 dkg cukor

1/2 sütőpor

1 dkg kakaó

2 db tojás

Túrós rész hozzávalói:

20 dkg porcukor

2 cs vaníliás cukor

1/2 citrom leve

2 dl Hulala (növényi tejszín)

50 dkg túró

1,5 dl tejföl

10 g zselatin

1 dl víz

reszelt citromhéj

15 dkg tortabevonó csokoládé

| | | | |
| --- | --- | --- | --- |
| Elkészítési idő: | 1 óra | Fogyókúrás: | nem |
| Költség: | 1000-1500 FT | Vegetáriánus: | nem |
| Adagok: | 8 főre | Glutén mentes: | nem |
| Nehézség: | Egyszerű | Laktóz mentes: | nem |
Elkészítés:
Az egész tojásokat keverjük jó habosra a porcukorral és a vaníliás cukorral, majd keverjük hozzá a kakaót is.
A lisztet keverjük össze a sütőporral, majd szitáljuk hozzá a kakaós masszához. Ezután óvatosan keverjük össze, majd öntsük bele egy 26 cm-es kizsírozott, kilisztezett tortaformába. (a tortaformát sütőpapírral is kibélelhetjük)
Helyezzük be előmelegített sütőbe, majd közepes hőmérsékleten süssük 15 percig. (én légkeverésnél 150 fokon 15 percig sütöttem)
A sütőből kivéve helyezzük rácsra, majd hűtsük ki egészen
Egy keverőtálba tegyük bele a túrót, a porcukrot, a vaníliás cukrot, a tejfölt, a reszelt citromhéjat és a citrom levet, majd alaposan keverjük ki.
A vizet forraljuk fel, majd vegyük le a tűzről és öntsük hozzá a zselatint. Ezután keverjük teljesen simára, majd hűtsük ki egészen.
A kihűlt zselatint ezután öntsük hozzá a túrós masszához, majd keverjük alaposan össze.
A Hulalát (v. habtejszínt) verjük fel kemény habbá, majd apránként keverjük hozzá a túrós-zselatinos krémhez.
A teljesen kihűlt tésztát tegyük vissza a tortaformába, majd öntsük rá a túrós-habos krémet. Ezután tegyük be pár órára a hűtőbe, hogy a krém teljesen megdermedjen.
Amikor a torta már teljesen megdermedt, vegyük ki a hűtőből, majd vonjuk be a tetejét olvasztott csokoládéval.
Tipp / megjegyzés:
Tálalás előtt ízlés szerint szeleteljük fel, majd úgy kínáljuk.