Elmentem!

Almás csokoládés pite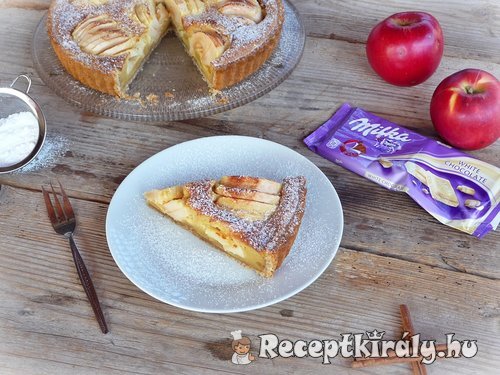 Hozzávalók:

Tészta hozzávalói 24 cm-es piteformához:

15 dkg liszt

10 dkg vaj

5 dkg porcukor

5 dkg darált dió

1 tojássárgája

1-2 ek hideg víz

Töltelék hozzávalói:

3 db alma

10 dkg mascarpone

1 dl tejszín

2 db tojás

5 dkg fehér csokoládé

1 cs vaníliás cukor

10 dkg porcukor

őrölt fahéj

1/2 cs vaníliás pudingpor (v. 1 ek étkezési keményítő)

| | | | |
| --- | --- | --- | --- |
| Elkészítési idő: | 1óra 15 perc | Fogyókúrás: | nem |
| Költség: | 1000-1500 FT | Vegetáriánus: | igen |
| Adagok: | 4 főre | Gluténmentes: | nem |
| Nehézség: | Egyszerű | Laktózmentes: | nem |
Elkészítés:
Tegyük a lisztet és a hideg, felkockázott vajat egy keverőtálba és robotgéppel kezdjük el morzsalékossá keverni.
Amikor már kellően morzsalékos, akkor állandó keverés mellett adjuk hozzá a porcukrot, majd a darált diót.
Végül adjuk hozzá a tojássárgáját, majd 1-2 ek hideg vizet attól függően, hogy mennyit vesz fel a tészta. (egy könnyen gyúrható tésztát kell kapnunk, mely nem ragad) (természetesen kézzel is összemorzsolhatjuk, és összegyúrhatjuk a tésztát)
Ezután csomagoljuk be a tésztát folpack fóliába, majd 30 percre tegyük be a hűtőbe pihentetni.
A hűtőből kivett tésztát nyújtsuk ki, majd béleljük ki vele a piteformát.
A tészta alját villával több helyen böködjük meg, majd helyezzünk rá sütőpapírt és töltsük meg nehezékkel (pl. babbal, rizzsel…)
Helyezzük be előmelegített sütőbe, majd közepes hőmérsékleten süssük kb. 10 percig. Ezután vegyük ki a sütőből, majd mielőtt megtöltenénk a töltelékkel, hagyjuk kicsit hűlni.
(az elősütést el is hagyhatjuk, a töltelék nem fogja eláztatni a tésztát, és elősütés nélkül is finom omlós lesz)
Az almákat hámozzuk meg, majd vágjuk félbe és vékony cikkekre. Citromlével csepegtessük meg, nehogy állás közben megbarnuljanak.
Egy tálba tegyük bele a mascarponét, a porcukrot és a vaníliás cukrot, majd kézi habverővel keverjük simára.
Ezután reszeljük hozzá a csokoládét, adjuk hozzá az egész tojásokat, ízlés szerint őrölt fahajat, és a tejszínt, majd szintén keverjük simára.
Végül keverjük hozzá a vaníliás pudingport (v. az étkezési keményítőt)
Az elősütött tészta tetejére helyezzük rá a félbe és cikkekre vágott almákat, majd óvatosan öntsük rá a mascarponés-csokoládés-tejszínes…. keveréket.
Helyezzük be a sütőbe, majd közepes hőmérsékleten 30-35 perc alatt süssük szép aranybarnára. (én légkeverésnél 150 fokon, 30 percig sütöttem) Ezután a sütőből kivéve a formában hagyjuk teljesen kihűlni.
Tipp / megjegyzés:
Tálalás előtt ízlés szerint szórjuk meg porcukorral a tetejét, majd felszeletelve kínáljuk.