Elmentem!

Rakott káposzta savanyú káposztából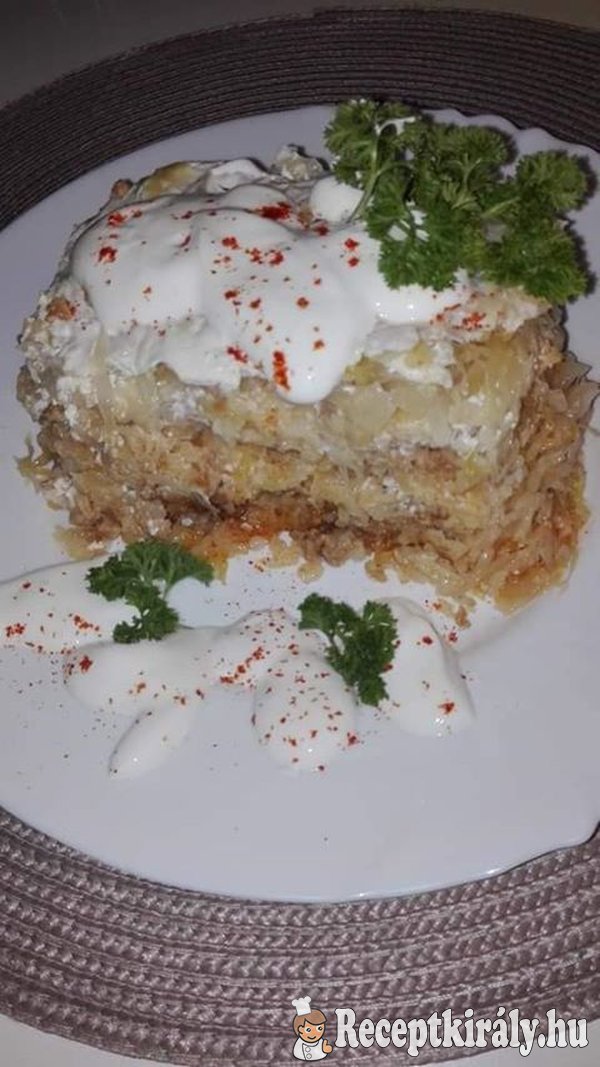 Hozzávalók:

60 dkg hús darált hús (sertés és marha vegyesen)
1 fej vöröshagyma
2 gerezd fokhagyma
1 kk. pirospaprika
1 db sárga paprika
1 db paradicsom
1 késhegynyi őrölt bors
2 ek. étolaj
1 bögre rizs (2,5 dl)
só
1 kg savanyú káposzta
1 fej vöröshagyma
2 ek. étolaj
őrölt kömény
bors
5 dl tejföl
2 db tojás
bors
ételízesítő (ízlés szerint)
1 tk. étolaj (a tál kikenéséhez)
zsemlemorzsa

| | | | |
| --- | --- | --- | --- |
| Elkészítési idő: | 1 óra | Fogyókúrás: | nem |
| Költség: | 1500-2000 FT | Vegetáriánus: | nem |
| Adagok: | 4 főre | Gluténmentes: | nem |
| Nehézség: | Normál | Laktózmentes: | nem |
Elkészítés:
Egy serpenyőben 2 ek. olajat hevítünk. Rádobjuk az egyik apróra kockázott vöröshagymát és üvegesre pároljuk. Megszórjuk pirospaprikával és felöntjük 1 dl vízzel. Hozzáadjuk a darált húst, sózzuk, borsozzuk, zúzott fokhagymát, kicsumázott paprikát és szeletekre vágott paradicsomot adunk hozzá. Lefedve puhára főzzük, a közben elpárolgott vizet pótoljuk.
A rizst sós vízben kifőzzük, majd leöblítjük és félretesszük.
A káposztát mossuk át kissé, hogy ne legyen nagyon savanyú. Egy edényben 2 ek. olajon dinszteljük meg a másik apróra vágott vöröshagymát, majd tegyük rá a káposztát. Ízesítsük borssal, köménnyel és fedő alatt főzzük puhára.
A tejfölt 2 tojással, őrölt borssal és ételízesítővel keverjük el.
Egy hőálló tálat kenjünk ki étolajjal és szórjuk meg zsemlemorzsával. A káposzta 1/3 részét helyezzük a tál aljára. Locsoljuk meg a tejfölös keverék 1/3-ával. Helyezzük rá a főtt rizst felét, majd a darált húsos szaftos pörköltnek szintén a felét. Fedjük be újabb 1/3 rész káposztával, locsoljunk rá tejfölös keveréket, majd osszuk el rajta a maradék rizst és a maradék pörköltet. Fedjük be a maradék káposztával, majd locsoljuk meg a megmaradt tejföllel a tetejét.
200 fokra előmelegített sütőben 30 perc alatt készre sütjük. Tejföllel kínáljuk.