Elmentem!

Fügés-sajtos hússzelet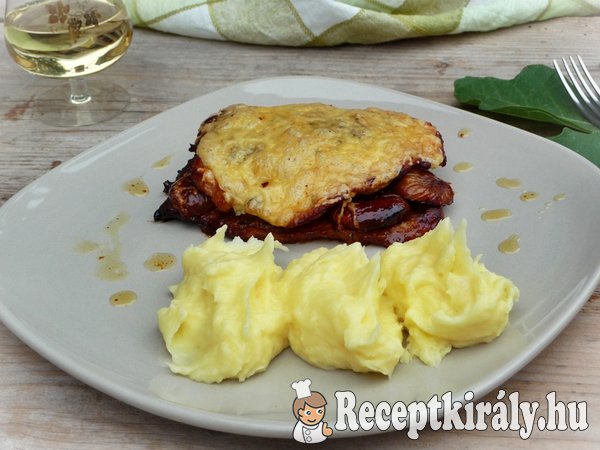 Hozzávalók:

8 szelet sertéskaraj

1 cs aszalt füge

3 dl fehérbor

10 dkg sajt

só

őrölt fehér bors

szerecsendió

majoranna

kakukkfű

ráma margarin

| | | | |
| --- | --- | --- | --- |
| Elkészítési idő: | 1óra 15 perc | Fogyókúrás: | nem |
| Költség: | 1500-2000 FT | Vegetáriánus: | nem |
| Adagok: | 4 főre | Gluténmentes: | igen |
| Nehézség: | Normál | Laktózmentes: | nem |
Elkészítés:
Az aszalt fügét szeleteljük fel, majd öntsük rá a bort és hagyjuk 1-2 órán át állni, hogy jól magába szívja. Ezután tegyük bele egy szűrőbe, és hagyjuk, hogy jól lecsepegjen.
A hússzeleteket klopfoljuk ki, majd ízlés szerint sózzuk, és szórjuk meg őrölt borssal. Ezután egy teflon serpenyőben, 1-2 ek olajon süssük elő mindkét oldalát.
Egy tepsit alaposan kenjünk ki margarinnal, majd helyezzünk bele a 4 szelet húst. Ezután ízlés szerint szórjuk meg szerecsendióval, majorannával, és kakukkfűvel.
A fűszerezett hússzeletek tetejére tegyük rá a fügét. Végül fedjük be a maradék hússzeletekkel, és a tetejét szintén fűszerezzük meg.(azért óvatosan bánjunk a fűszerekkel, nehogy elnyomják a füge ízét)
A maradék bort, öntsük a hússzeletek alá, majd a tepsit fedjük le alufóliával.
Melegítsük elő a sütőt, majd helyezzük be a tepsit, és közepes hőmérsékleten pároljuk puhára a húst. (én légkeverésnél 150 fokon, 45 percig pároltam)
Amikor a hús készre párolódott, vegyük le az alufóliát, majd ízlés szerint szórjuk meg a hússzeleteket reszelt sajttal. Ezután tegyük vissza a sütőbe, és süssük szép pirosra.
Tálaláskor ízlés szerint kínálhatunk mellé krumplipürét, vagy párolt rizst.
Jó étvágyat kívánok!