Elmentem!

Karácsonyi hangulatú mentás sütemény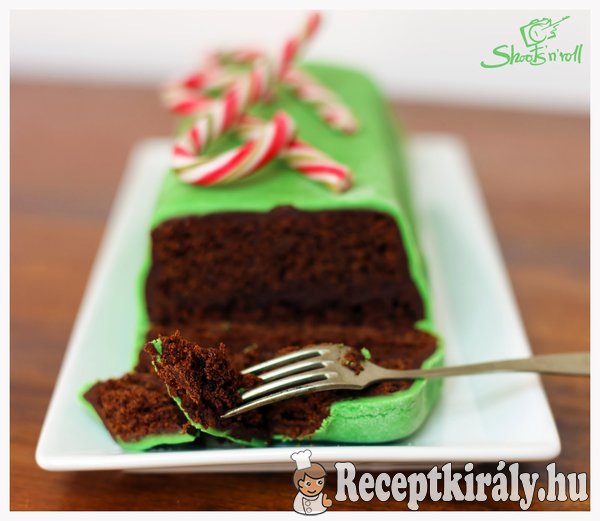 Hozzávalók:

85 g vaj

50 g étcsoki

120 g liszt

140 g kristálycukor

3 evőkanál keserű kakaópor

fél teáskanál szódabikarbóna

1 nagy tojás

140 ml író (ha nincs, akkor kefir is megteszi)

A krémhez:

300 g After Eight

50 ml tejszín

A díszítéshez:

zöld ételfesték

1 teáskanál menta kivonat

300g fehér fondant (vagy zöld. és akkor nem kell színezni)

| | | | |
| --- | --- | --- | --- |
| Elkészítési idő: | 1óra 30 perc | Fogyókúrás: | nem |
| Költség: | 1500-2000 FT | Vegetáriánus: | igen |
| Adagok: | 10 főre | Gluténmentes: | nem |
| Nehézség: | Egyszerű | Laktózmentes: | nem |
Elkészítés:
Vajazzunk ki egy 22 cm-es téglalap alakú formát. (vagy használjunk szilikon formát) Melegítsük elő a sütőt 180 fokra légkeveréses módban.
Olvasszuk fel a vajat és a csokit egy kis lábosban. Keverjük össze a lisztet a cukorral, a kakaóporral és a szódabikarbónával.
Keverjük össze géppel az írót (kefirt) a tojással. Adjuk hozzá az olvasztott csokis keveréket, majd keverjük jól össze az egészet.
Végül apránként adjuk hozzá a száraz összetevőket és keverjük csomómentesre.
Öntsük a keveréket a formába és tegyük be a sütőbe 18-20 percre. Addig süssük, amíg a beleszúrt alkalmatosság (tű, fogpiszkáló) tisztán nem jön ki belőle.
Ha ezzel megvagyunk, szedjük ki a formából és hagyjuk teljesen kihűlni.
Amíg a tészta hűl, készítsük el a krémet.
Egy kis lábasban olvasszuk fel az After Eight-et és keverjük hozzá a tejszínt. Hagyjuk teljesen kihűlni, amíg kenhető nem lesz. (Ha nagyon nem akarna besűrűsödni valami okból kifolyólag, akkor adjunk hozzá egy kis kakaóport).
Állítsuk össze a süteményt:
Vágjuk ketté a tésztát lapjában, majd kenjük meg a krémmel. Ne kenjük bele az egészet, kell a külsejére is. Kb. a felét kenjük a lapok közé.
Kívül kenjük be a sütemény oldalát és tetejét is a maradék krémmel.Jusson mindenhova bőven.
A fondantba keverjük bele a menta kivonatot és egy teáskanál ételfestéket.
Ha ezzel megvagyunk nyújtsuk ki a fondantot kb. 0,5 cm-re de lehet egy kicsit vékonyabb is. (Azért ne legyen átlátszó, hiszen ez takarja be a sütinket.)
Borítsuk be a sütit óvatosan, simítsuk rá szépen, hogy mindenhol jól fedje. Tegyük egy órára a hűtőbe, majd tálalás előtt díszítsük karácsonyi nyalókával, vagy egyéb dekorációval, amihez kedvünk van.
A sütemény hűtőben egy hétig eláll.
Tipp / megjegyzés:
Remélem tetszik az ötlet, aki szereti a mentát és a csokit együtt, az nem fog csalódni.

Kellemes karácsonyi készülődést!
nutsnroll.blogspot.co.uk